The following items, they are simple but indispensable pieces in the living room space. Never out of style, the items in this group are classy and elegant in a classic way, and still look good (so you won't have to splurge to replace them in years' time). Forget about current interior fad and urgent interior trends; These are long-lasting amenities that every living room needs.
Rattan chairs and stools
Rattan chairs and stools are always favored by sophistication and simplicity. You can use luxurious modern rattan chairs with metal legs in the bar or dining area.
Or if you want to add something really cool, order a stylish rattan peacock chair outdoors or add a hanging rattan chair with pillows indoors.
Stylish rattan chairs with chevron motifs (a pattern consisting of several V-shapes arranged in a row, forming zigzags up and down) add to the attractive look.
The super-stylish stool in black metal and rattan will instantly make your living room or bar space feel bold and chic.
Modern style rattan chairs with many different basic colors will suit every living room space to look fancier.
In addition, if your living room is spacious, airy, close to nature. You can order this hanging rattan chair with pillows and some faux fur that's perfect for a boho home.
Long rattan bench
The rattan bench will never go out of fashion because it can create a very different style for the bedroom, living room or outdoor. There are many designs for thispiece of furniture, and to incorporate more modern pieces into a seemingly dry design, add a cushion.
This plush rattan chair is ideal for a Bohemian home style, you can also place it outdoors if you want.
Classic or neoclassical sofa
It's a favorite in living rooms and boutique hotels, and it's no wonder. Their clean lines and comfort, the classic button-down sofas are truly timeless and look good in a modern apartment.
We will introduce you to some of the current trending sofa models and those designed and manufactured by Jllproducts.
Floor lamp
The architectural lines of the high-leg floor lamp have made it a staple in the living room in recent years and it looks to stick with everyone. Along with complementing the flow of light in the room, these delightful lamps make a statement in their own right. Place two at either end of the sofa. If you don't like neutral lampshades like the ones here, swap them out for brightly colored lamps to energize your scheme.
Lamp colors can be selected in two ways: in tune with the wall paint color, wooden furniture to create harmony or or choose a contrasting color with the main color to create a break. You can also choose a lucky lamp color to attract good luck.
Lamp material is also an important factor to ensure longevity, safety as well as harmony with the interior. Cheap to high-end standing tree lights come in different materials such as wood, metal, fabric, glass, etc., which are durable and safe to use. For example, a luxurious interior room should choose a standing lamp made of plated metal, marble, crystal, … so that the room is not out of tone.
Ottoman
The ottoman chair is a rather typical line of chairs used in lounge areas. This style is often seen in hotels and restaurants, in addition ottoman chairs are also used in families for relaxing areas in a corner, napping, reading or watching movies in the living room.
Corner TV cabinet
Depending on the space of the room, you will have the size and layout to suit each room. If you choose a beautiful wooden TV cabinet to place in the living room, it can be opposite the sofa set. If in the bedroom, you should put it opposite the end of the bed, avoid placing the TV on either side of the bed.
For the convenience of watching TV and not affecting your health, you should pay attention to the distance between the TV and the place you sit. Usually, the best viewing distance is 2m away from the TV cabinet.
Chandeliers
Suggest a few types of chandeliers
Iron decorative chandeliers
Decorative chandeliers in bronze
Crystal chandeliers
Decorative glass chandeliers
Classic decorative chandeliers
Modern decorative chandeliers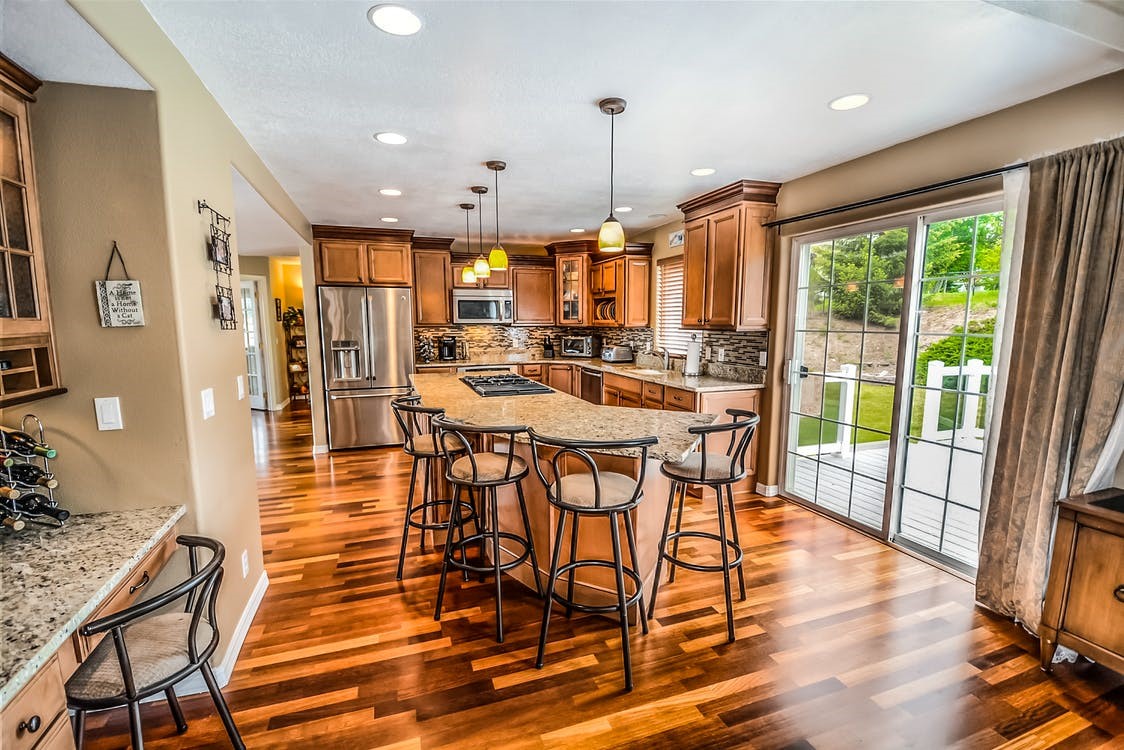 Currently we can only talk about low-light chandeliers, but crystal chandeliers have never gone out of fashion. More than a mere light, it adds sparkle, instant glamor and just a spark of grandeur to any space. By the way, don't automatically choose bronze. The jewel-like version accentuates the simple ceiling and adds a splash of color in the room.
If your light will be centered on a seating area and not the entire room, use the approximate length and width dimensions of that area instead of the entire space. Another way to calculate this is to add the length the light will be from the two closest walls and then double it to get your approximate chandelier diameter in inches.
Factors homeowners need to keep in mind when choosing an interior design style, arranging items
In fact, the process of shaping as well as choosing interior design options is not simply buying an item. Furniture such as beds, cabinets, tables and chairs are ready to be placed. The choice of design style should be started from the moment the architect or homeowner divides the function rooms. After dividing the new spaces, proceed to the stages of interior layout, color distribution, light and connection of architectural spaces.

The end result of the interior design stage is not only a fully equipped house with enough departments, but also needs to optimize space, achieving high aesthetic efficiency.
The production process of classical, modern luxury furniture is more complicated, as it requires a dust-free workshop environment, experienced craftsmen and a good source of raw materials. Jllproducts Furniture has always maintained high standards to produce each piece of luxury classic furniture, for customer satisfaction and good using experience.