As the name suggests, outdoor furniture (garden furniture) is an outdoor set of furniture, usually a dining table and chairs or a relaxing outdoor table and chairs, suitable for homes with large yards. spacious or airy garden. This is also an ideal place for family members to gather and chat with each other.
What are outdoor tables and chairs?
A green and fresh space combined with high-class garden furniture promises to be a place of relaxation and entertainment, helping you to relieve stress. In order for homeowners to sit and watch and enjoy delicious food and perfect cups of tea in their garden, many garden furniture products have been launched, ranging from designs to styles, color, material to price, meet the needs of every customer.
What raw material should you choose outdoor furniture from?
Choosing a set of beautiful outdoor furniture, standard and suitable for your outdoor space is not easy. Not to mention because it is placed outdoors, durability is a factor that everyone should consider. So what material should you choose for outdoor furniture?
Explore with Jllproducts!
Wooden outdoor tables and chairs
Wood is the most popular and preferred material in the field of furniture. Wooden tables and chairs have the advantage of naturalness, unique beauty and variety of colors and wood grain systems. If your garden cafe is designed in Asian style, if you want to enhance the rusticity and closeness of nature, choose wooden outdoor furniture.
The advantage of wooden furniture is the natural color, close to the natural space in the garden. Wood products are meticulously processed, so you don't have to worry about termites or warping. Wooden outdoor tables and chairs are always favored by middle-aged people, undeniably wooden products are always luxurious and complete.
However, the disadvantage of wooden furniture is that it is a bit more expensive than other materials. But if you consider the quality, the price is extremely reasonable. You can consider your needs, preferences and budget to choose the right one. Also because of the high price, when buying outdoor wooden furniture, you should find a reputable supplier to ensure quality.
Noteworthy points when using wooden tables and chairs
You should avoid letting the table and chairs come into contact with water, the reason is understandable because water will affect the quality and aesthetics of wooden garden furniture. You can choose wooden furniture products combined with iron legs to increase the durability and certainty of the product.
Iron outdoor tables and chairs
The outstanding advantage of the iron table and chair model is its durability and long service life. Referring to products made from iron, you can be assured of the certainty and rigidity of this metal. In addition, outdoor iron tables and chairs are often covered with a layer of electrostatic paint to make it easy to clean and maintain.
This type of material also has the disadvantage that they are heavier than any other raw material, so it will be a bit difficult to move them. In addition, iron will also easily rust when left outdoors for too long, affected by erratic rain and sun.
However, the products at Jllproducts all use high-grade iron and are sprayed with a thick layer of paint to cover the outside, minimizing unwanted harm during use. So today, this is one of the most popular materials that customers choose when choosing garden furniture.
Plastic outdoor tables and chairs
The most obvious strength of plastic furniture is that the price is very reasonable, more competitive than other materials, so it is easy to use for any space. The design of this material is often simple, compact but equally elegant and luxurious, easy to move and arrange. In addition, the color of plastic tables and chairs is very diverse, favoring bright, eye-catching colors.
However, the weather resistance of plastic materials is quite poor compared to other materials, easy to be brittle and fade in the sun and rain. Therefore, to choose plastic material for garden furniture, you must carefully consider the location of the furniture, how to preserve it, and find a reputable supplier.
Outdoor tables and chairs made of plastic imitation rattan
Why is it plastic rattan?
In the past and now, traditional handmade products from natural rattan materials are very popular, not only in high demand in the country but also exported to many countries around the world. However, natural rattan products have some limitations when used outdoors, so they are often only used as interiors, especially in tropical countries like Vietnam.
Plastic rattan outdoor chair with a variety of designs
Since then, plastic rattan chair products have been born as an indispensable need and become a trend that many people have been chasing in recent times. Plastic rattan is made from PE or synthetic resin, designed to look like natural bamboo and rattan fibers. At a glance, you can hardly distinguish the difference between rattan and plastic rattan, only when we come into direct contact with them will we see the difference between them.
Luxury outdoor dining table from rattan plastic
The biggest advantage of plastic rattan is its excellent durability, the world calls it all-weather rattan, made from high-quality virgin resin with long service life. The outstanding feature compared to real rattan is that it can be used in all kinds of weather and all climates, including in tropical countries like Vietnam. Plastic rattan is also very easy to clean and maintain compared to other materials. To clean the fake rattan furniture, just use a soft cloth or brush. Besides, plastic rattan items are quite light in weight, so moving them will be very easy.
Outdoor plastic rattan chair
Finally, the price of plastic rattan furniture is cheaper than other materials such as wood or iron. It can be said that this is a cheap and durable material, which is a perfect choice for outdoor furniture.
Plastic rattan tables and chairs for coffee shops
Plastic imitation rattan is being considered the first choice for coffee shops today. This product model converges all the top 3 factors: quality, aesthetics and cheap price. Plastic rattan coffee tables and chairs have a sturdy metal frame, high-quality imitation rattan fibers from extremely durable, tough plastic. The product, even if used for a long time outdoors, does not worry about fading or rusting.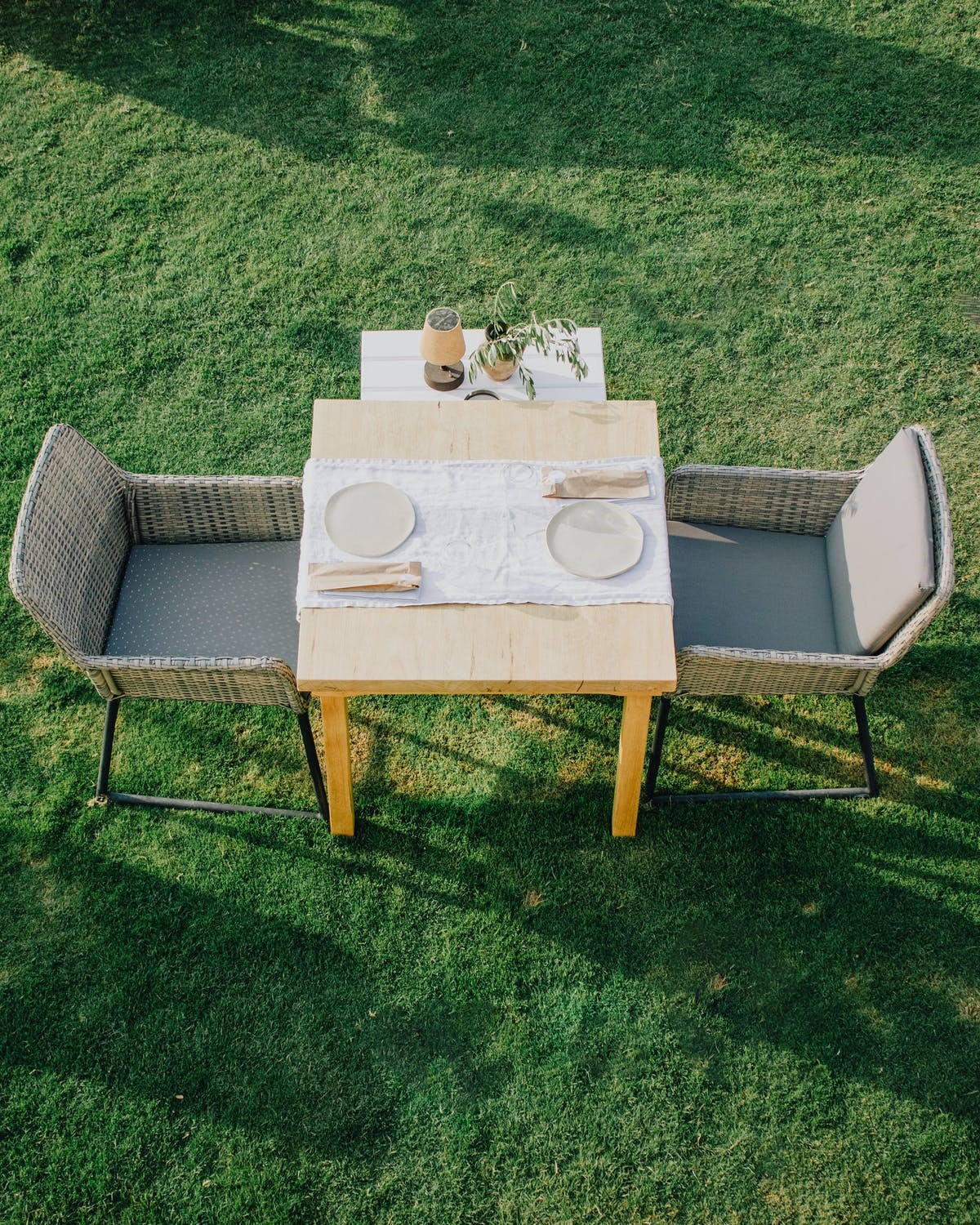 This type of high-class garden furniture also has high comfort, is easy to clean, and the weight of the details is quite light, which can be moved and changed position as required.
If you are wondering how to choose a coffee shop table and chair that is beautiful, impressive, and ensures long-term durability, please contact Jllproducts immediately for the most dedicated advice and support.
End of Jllproducts's story
Each material has different advantages and disadvantages, depending on your needs, preferences and financial capabilities, you can consider choosing the right raw material. Jllproducts wishes you an ideal garden space!