Jllproducts inspires interior selection for coffee shops
Recently, when coffee has become a familiar daily drink of people around the world. Many new coffee shops are opened daily to meet the increasing demand for coffee enjoyment. Among the many aspects that need to be carefully researched when deciding to open or maintain a coffee shop, which cafe furniture to use for your coffee shop is really an important factor to learn. . It clearly shows the style and uniqueness, attractiveness and position of a coffee shop in the hearts of customers.
Whether you are a beginner with a cafe looking to find furniture for your new coffee shop or already own a cafe looking for inspiration to change the style of your cafe to bring Impressive, a unique charm, this article is for you! Help you get inspired by consulting interior design ideas from some famous coffee shops whose designs have won the hearts of customers coming to the shop. And their furniture, which is itself a leading furniture manufacturer in Vietnam and also one of the most trusted Asian furniture manufacturers, is supplied by Jllproducts.
We base on the following criteria to design and produce suitable furniture for coffee shops with a variety of styles:
Interior design of a cafe that allocates space scientifically
A coffee shop design is not only aesthetic but also ensures convenience for customers when coming to experience the service. Space contributes to increase the taste of customers. Besides, it also creates a relaxing and comfortable atmosphere for quality entertainment moments.
Depending on each customer group, the shop will be divided into many specific areas. It can be a long table for a large group of guests. Or if the cafe is large and luxurious, arrange a separate VIP table area.
Based on the overall area of ​​the cafe, know the balance of seating and walkways. As a result, the move is easier and more convenient for both customers and service staff.
Bringing life to the cafe with interior style.
Before applying the interior style to the cafe, you should determine the type of business you pursue. It can be popular coffee, live music coffee, book coffee, garden coffee or office coffee, etc.
After understanding the business model and knowing the target audience, it is time to shape the concept for your coffee shop. Currently, many popular interior styles in the world "enter" the design of the cafe. You can refer to Eco style for a cool green space, Rustic with rustic wood colors or Industrial that simulates a unique factory, etc.
Tables and chairs designed specifically for coffee shops
 Rattan chairs and tables
Single sofa for intimate, close conversations and cafe table and chair set with many single chairs for a formal meeting or personal work. You can decorate your own coffee shop with these different pieces of furniture and turn it into a multifunctional cafe with many options and special amenities, which will be a big plus for customers. are wondering when choosing a place to stop for work. Above all, carefully crafted water hyacinth tables and chairs will be durable, sturdy frame and perfectly comfortable seating.
Wooden table
Wooden table is one of the typical products of traditional coffee shops, for cafes, milk tea shops, restaurants or placed in the interior of your house.
With quality natural wood, rubber, Ash, Walnut materials, durable, good glue, good nails for solid joints. Jllproducts designs round and square wooden tables with various legs. Every detail is refined by the staff at Jllproducts' vendors to create the most perfect product to bring to users.
Iron chair legs
There are 3 main types of iron chair legs produced by Jllproducts, including:
– Wooden table with iron legs: designed in the form of a square, round table with rubberwood, natural wood, pinewood, … with cross legs, round legs. Especially, there are Retro and vintage designs that are popular with customers.
– Iron table: using all iron materials, designed in many styles and sizes to suit each interior space. A special feature of this type of table is its high durability, resistance to weather, the environment is very suitable for cafes, restaurants with outdoor space.
– Stone table top, iron legs: The iron legs with logic design are very popular with customers in the design and art industry. Because of the beauty and science that the junctions create. The table top uses granite, quartz stone … with suitable thickness, with sophistication. Create something new for your space. With anti-rust painted iron table legs, safe to use. In particular, highlight the classic vintage interior design theme.
Group table (group)
The group table model is listed by Jllproducts as a separate product line because of the product's importance in the interior space.
Group tables have a variety of design styles, materials, designs and sizes. creative team Jllproducts designs group tables according to the individual requirements of customers, creating the most satisfaction.
With that diversity, it is more friendly to users of different ages and personalities. When coming to enjoy a cup of coffee, milk tea, customers want to bring their friends and want to sit together and share moments together.
The trend of modernization and development of teamwork is the essential furniture that brings you great revenue.
Sofa
It seems that the sofa is an indispensable piece of furniture in the space of cafes, restaurants, homestays, apartments, villas… Modern trends, sophistication, high aesthetic taste but user-friendly, environment is the criterion for choosing a sofa.
Therefore, the creative team Jllproducts created and designed a single sofa model. With a combination of materials of "wood" with a modern and high-class sofa mattress.
The sofas are designed with the main frame of natural wood, walnut, ash, rubber, … And often Jllproducts retains the characteristic natural color of wood as the tone for the chair.
Single sofa model can be combined into a sofa set for the living room to become more perfect. In addition, Jllproducts also uses iron frames for classic vintage style sofas. Combined with a sturdy iron frame, unique shape design is the same modern sofa mattress.
Style with the criterion of always being creative in each product, meticulous in processing to create the most perfect product to bring to consumers.
Wooden sofas are the most chosen by users in 2018. Becoming an indispensable furniture trend in restaurants, cafes, apartments, villas, homestays, hotels … for many years.
In addition, Jllproducts launches high-class wooden chairs according to the individual needs of each customer. From the old versions are created, replace some details. Combining light tones, wood materials are covered with glossy paint. Featured in the space of cafes, restaurants and hotels.
This high-class wooden chair is extremely impressive when combined with group tables. Provide customers with space for 4-8 people to sit. Suitable when the whole family, group of friends come to the restaurant.
Metal frame chair
This type of chair has a combination of many materials to form a quality product. Popularly used in restaurants, cafes, … behind wooden sofas.
Metal frame chairs can be combined with backrests, wooden seats, sofa mattresses… Or use more plastic imitation rattan, bringing a feeling of openness and comfort without the monotony of metal.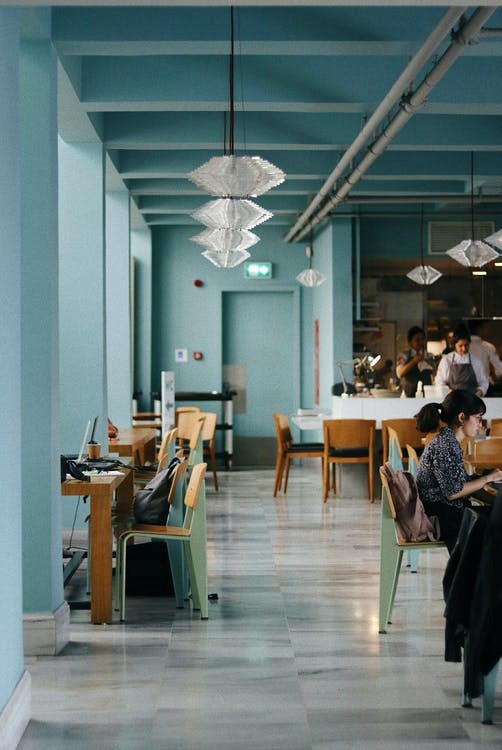 With the current trend of bars, restaurants, cafes… choose furniture to make the most of the space. Then this metal frame single chair model converges the points that the trend needs.
The design is simple, the design is more compact than the classic metal frame chair models. Jllproducts innovates the details to save the cost of product components. In particular, the price is lower than many other models on the market.
When the metal frame chair combined with the wooden table brings a new nuance to the interior space.
Hopefully with the above sharing, Jllproducts has helped you get more creative inspiration to decorate and set up your own unique style cafes. Come to us when you need specific advice on impressive interior decoration for the cafe and experience with high quality garden, indoor and outdoor cafe furniture products.